posted on 19 Jan 2015 00:49 by 00pilarz
Overview
Plantar fasciitis is one of the most common explanations of heel pain. It is caused by inflammation to the thick band that connects the toes to the heel bone, called the plantar fascia, which runs across the bottom of your foot. The condition is most commonly seen in runners, pregnant women, overweight people, and individuals who wear inadequately supporting shoes. Plantar fasciitis typically affects people between the ages of 40 and 70.
Causes
Inappropriate footwear is the No. 1 cause of plantar fasciosis. Footwear that possesses toe spring and a tapered toe box holds your big toe in an adducted and extended position. In this position, your abductor hallucis muscle-the muscle responsible for moving your big toe away from your foot's midline-pulls on a foot structure called the flexor retinaculum and may restrict blood flow through your posterior tibial artery, the vessel that carries blood to the bottom of your foot. Tissues in the sole of your feet begin to degenerate as blood supply to this area is decreased. Other recognized causes of or contributors to this health problem include the following, calf muscle shortening, plantar fascia contracture, Obesity, rheumatoid arthritis, reactive arthritis, Psoriatic arthritis, Corticosteroid injections.
Symptoms
The most common symptoms of plantar fasciitis include pain on the bottom of the foot near the heel, pain with the first few steps after getting out of bed in the morning, or after a long period of rest, such as after a long car ride. The pain subsides after a few minutes of walking. Greater pain after (not during) exercise or activity.
Diagnosis
Plantar fasciitis is usually diagnosed by your physiotherapist or sports doctor based on your symptoms, history and clinical examination. After confirming your plantar fasciitis they will investigate WHY you are likely to be predisposed to plantar fasciitis and develop a treatment plan to decrease your chance of future bouts. X-rays may show calcification within the plantar fascia or at its insertion into the calcaneus, which is known as a calcaneal or heel spur. Ultrasound scans and MRI are used to identify any plantar fasciitis tears, inflammation or calcification. Pathology tests (including screening for HLA B27 antigen) may identify spondyloarthritis, which can cause symptoms similar to plantar fasciitis.
Non Surgical Treatment
Treatment for heel pain usually involves using a combination of techniques, such as stretches and painkillers, to relieve pain and speed up recovery. Most cases of heel pain get better within 12 months. Surgery may be recommended as a last resort if your symptoms don't improve after this time. Only 1 in 20 people with heel pain will need surgery. Whenever possible, rest the affected foot by not walking long distances and standing for long periods. However, you should regularly stretch your feet and calves using exercises such as those described below. Pain relief. Non-steroidal anti-inflammatory drugs (NSAIDs), such as ibuprofen, can be used to help relieve pain. Some people also find applying an ice pack to the affected heel for 5-10 minutes can help relieve pain and inflammation. However, do not apply an ice pack directly to your skin. Instead, wrap it in a towel. If you do not have an ice pack, you can use a packet of frozen vegetables.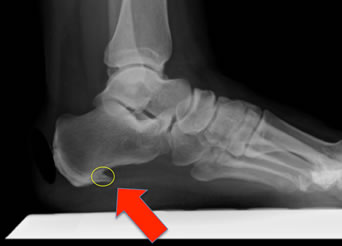 Surgical Treatment
When more-conservative measures aren't working, your doctor might recommend steroid shots. Injecting a type of steroid medication into the tender area can provide temporary pain relief. Multiple injections aren't recommended because they can weaken your plantar fascia and possibly cause it to rupture, as well as shrink the fat pad covering your heel bone. Extracorporeal shock wave therapy. In this procedure, sound waves are directed at the area of heel pain to stimulate healing. It's usually used for chronic plantar fasciitis that hasn't responded to more-conservative treatments. This procedure may cause bruises, swelling, pain, numbness or tingling and has not been shown to be consistently effective. Surgery. Few people need surgery to detach the plantar fascia from the heel bone. It's generally an option only when the pain is severe and all else fails. Side effects include a weakening of the arch in your foot.
Stretching Exercises
While it's typical to experience pain in just one foot, massage and stretch both feet. Do it first thing in the morning, and three times during the day. Achilles Tendon Stretch. Stand with your affected foot behind your healthy one. Point the toes of the back foot toward the heel of the front foot, and lean into a wall. Bend the front knee and keep the back knee straight, heel firmly planted on the floor. Hold for a count of 10. Plantar Fascia Stretch. Sit down, and place the affected foot across your knee. Using the hand on your affected side, pull your toes back toward your shin until you feel a stretch in your arch. Run your thumb along your foot--you should feel tension. Hold for a count of 10.